Description
GDF-8 Myostatin 1mg Peptide Vial Australia
This products intended for research and medical purposes only, to be only used by trained professionals.
GDF-8, Myostatin is a myokine. Myokine's a protein realised and produced by myocytes. These myocytes work on your muscle cells to inhibit myogenesis. Studies have shown this process leads to muscle growth. Myostatin (GDF-8) is present in the muscle healing process. Its nature is inhibiting myogenesis, which is the formation of muscular tissue. Especially during embryonic development [1]. Myostatin inhibitors improve the repair of wounds if you happen to have deep penetrant injuries to your bones and muscles [2].
GDF-8 has been found to be expressed in the ovaries and play a role in many ovarian processes. In addition, study results show GDF-8 can shed light on the mechanisms that lead to aromatase expression, which could lead to the development of new treatment options for OHSS patients [3].
---
References:
https://www.ncbi.nlm.nih.gov/pubmed/20173658
https://www.ncbi.nlm.nih.gov/pubmed/20190380
https://www.ncbi.nlm.nih.gov/pmc/articles/PMC8241723/
---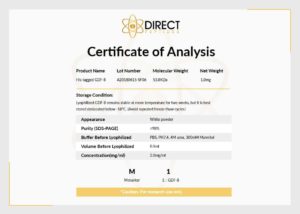 ---
DISCLAIMER: We do not supply peptides to Any individual under the age of 18. You must be a licensed and qualified healthcare practitioner. Our team of dedicated professionals committed to providing an extensive range of products used medical research by responsible trained and professional individuals. All products listed and provided on this website (https://direct-peptides.com) are for medical research purposes only. Direct Peptides does not encourage or promote the use of any of these products in a personal capacity (i.e. human consumption). Nor are the products intended to use as a drug, stimulant or for use in any food products.